Microsoft Dynamics 365 Business Central
Microsoft Dynamics 365 Business Central is a cloud-based enterprise resource planning (ERP) solution. It is a comprehensive system that allows organisations to manage their financials, supply chain, manufacturing, and operations in a single, integrated platform.
One of the key benefits of Business Central is its ability to streamline and automate business processes. With its advanced automation capabilities, businesses can automate tasks such as financial management, inventory control, and purchasing, which can significantly increase efficiency and reduce the risk of errors. Additionally, it has a strong integration with Microsoft 365, which allows users to access and analyse data from within their familiar office environment.
The solution can be tailored to meet the specific needs of different industries, such as manufacturing, wholesale, and service. Additionally, the solution can be customised to fit the unique business processes and requirements of each organisation, making it a suitable solution for companies of all sizes and types.
Business Central also provides robust reporting and analytics capabilities that allow businesses to gain valuable insights into their operations. Users can create detailed financial statements, analyse sales and customer data, and monitor inventory levels among other things. This can help businesses make data-driven decisions and improve overall performance.
Business Central is a cloud-based solution, which means that it can be accessed from anywhere with an internet connection and always up to date. This makes it easy for businesses to collaborate and share information, regardless of location. This also allows scalability, as the solution can be configured to meet the changing needs of the organisation over time.
In summary, Microsoft Dynamics 365 Business Central is a comprehensive and flexible ERP solution designed to allow you to do more with less. Its advanced automation capabilities, robust reporting and analytics, and cloud-based delivery model make it an ideal solution for streamlining and optimising business processes, and driving growth and profitability.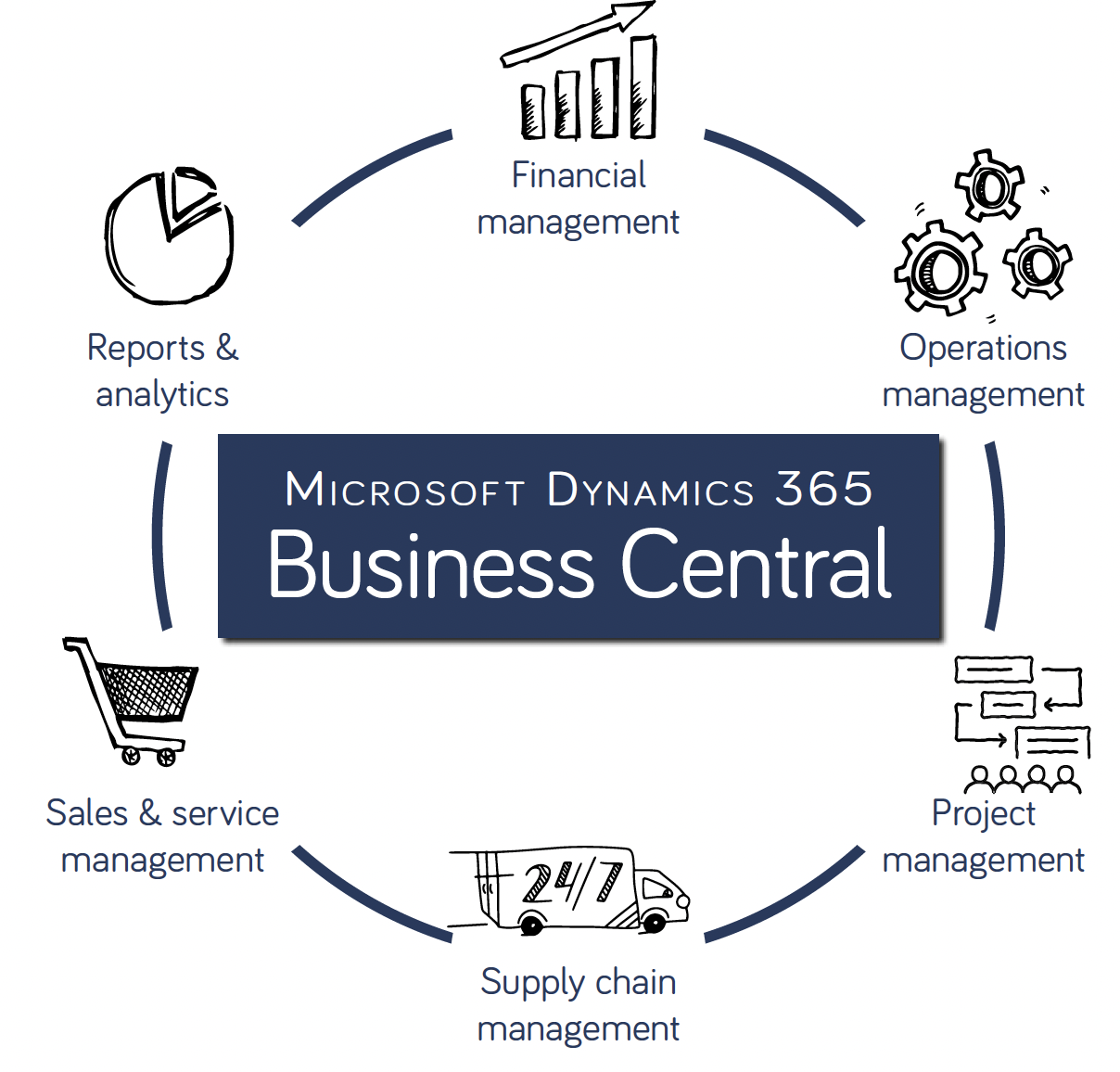 Adapt Faster
Proactively prepare for and readily respond to disruption with the visibility needed to identify threats, reduce risks, and adjust business models as market dynamics change.
Work Smarter
Drive operational proficiency by empowering your people with AI-infused processes, guided workflows, automation, and interoperability with Microsoft 365 and Teams.
Perform Better
Improve financial dexterity by connecting data and automating manual tasks to unlock the predictive forecasting and insights needed to accelerate growth.
Streamline Financial Management
Accelerate financial close, improve forecasting and get real-time performance metrics while fostering compliance across subsidiaries.
Comprehensive Business Management
Dynamics 365 Business Central is a comprehensive business management solution that helps businesses connect their finance, sales, service and operations team within a single, easy-to-use application.
Take Your Business on the go
Work wherever your business takes you with full capabilities on desktop, tablet or mobile devices across Windows, Android and iOS devices.